The Quilt Genius American Quilt Trail

Garden Party 2020!
Dubbed "The Way of American Genius" for its connection to prominent Missourians such as Mark Twain, Walt Disney, and Gen. John J. Pershing, this quilt trail features quilt shops along Missouri's historic U.S. Highway 36, running west to east, from St. Joseph to Hannibal.

The American Genius Highway Quilt Trail includes 14 shops. Many of the associated businesses are conveniently located just off Highway 36, while others can be found within the Highway 36 Corridor (a zone spanning 36 miles north and 36 miles south of the actual highway).

The trail starts May 18th and runs through Nov 1st. Great news!
You can complete the trail virtually this year or visit the shops in person.
For more information on the trail rules, prizes, shop participants, and to print a passport go to:
https://hwy36quilttrail.com

Click here to purchase Glenda's Block

Here is Glenda's Block!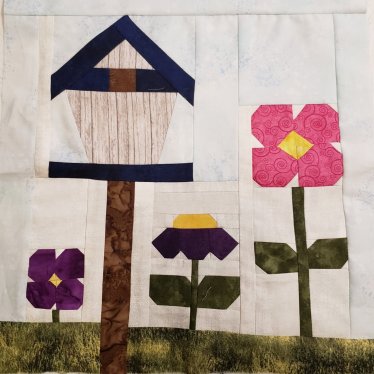 This year's add on items include the Butterfly, Red Bird, and the opening to the bird house. These are applique pieces.



Here is Glenda's Garden Party Quilt